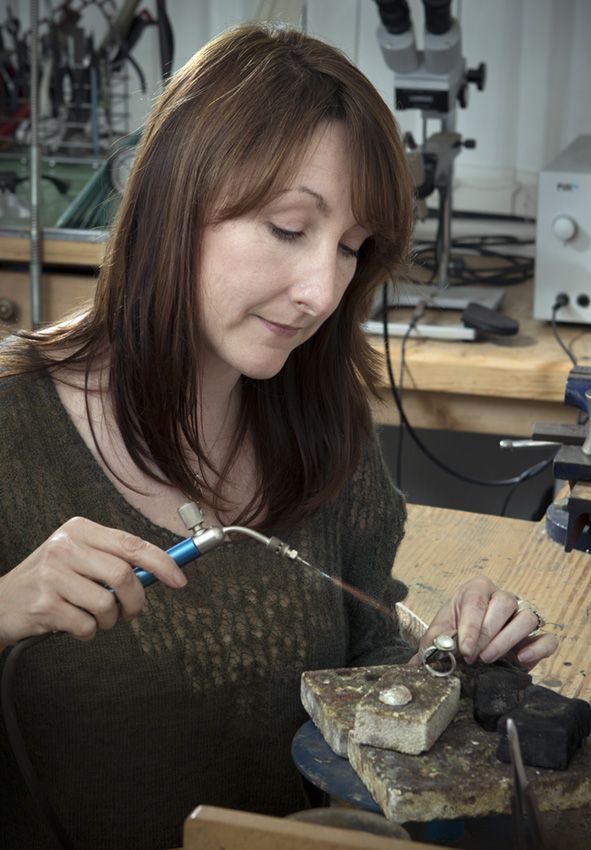 "Diamonds are a girl's best friend"…perhaps, but it has always been the beauty of coloured gemstones that has captured my heart. I spend many enjoyable hours with customers choosing combinations of colours and cuts of precious and semi-precious gemstones. My design inspiration comes mainly from nature but also from architecture and travel. Time working in India and childhood memories of living in the middle east have strong influences on my designs. Subtle contrasts of colour, texture and pattern are created using coloured golds, silver, palladium and platinum. I combine traditional hand skills and tools with new technologies such as laser welding, computer aided design and rapid prototyping to create my collections. I feel very lucky to have spent the last 20 Years working in Kirkcudbright creating jewellery that is worn and loved. Jewellery is so personal and I enjoy working with clients designing unusual and unique pieces using their own family jewels and ideas. My imagination is bursting with ideas for jewellery I want to create, the possibilities are endless…
Bespoke Jewellery
I offer a bespoke jewellery service where we will create a piece of jewellery as individual as you are.
This can be a variation of the jewellery that we have in the shop or something completely different.
Perhaps you have a clear vision of the jewellery you want us to bring to life. Some of our customers even bring in pictures and sketches. This is helpful, but it certainly isn't essential. And if you're not sure about the design you want, don't worry, we'll guide you through all the options.
See the Bespoke section for more information and examples.