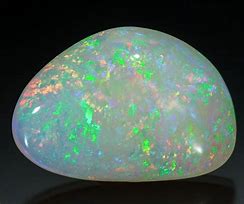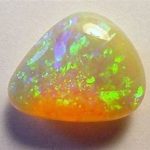 Opal Key Facts
5-6.5 on the Mohs scale of hardness
October's birthstone
All opals shine and sparkle in a continually changing play of colours
Mined predominantly in Australia
Said to help with depression and in the search for true love
General Information on Opal
Opal is the modern October birthstone and the accepted gem for the 13th wedding anniversary
Most opal is 50-65 million years old, dating back to the Cretaceous period. Opal formed as silica from decomposing rocks mixed with ground water which formed a silica gel that collected and hardened in underground cavities and fissures.
The hardness of opal is 5.5 to 6.5 so thought must be given to its durability if you are considering an opal engagement ring.
In order to best bring out the play of colour in opal, the stones are cut and polished to round or oval cabochons, or any other softly domed shape, depending on the raw material. Only the best qualities of opal, however, are suited to faceting. The opal cutter will first of all carefully remove any impurities using a diamond cutting wheel, before working out the rough basic shape. Then comes the fine cutting, the finishing with sandpaper and then the final polishing with a wet leather wheel.
Due to the differing percentage of water, opals may easily become brittle. They always contain water – usually between 2 and 6 %, but sometimes even more. Thus if stored too dry or exposed to heat over a longer period of time, opals will show fissures and the play of colour will become paler. Therefore, opal jewellery should be worn as often as possible, for then the gemstone will receive the needed humidity from the air and from the skin of its wearer.
The value of opal is not only determined by the body colour, transparency and factors based on place of occurrence. (Body colour refers to the basic colour of the gemstone, which can be black, dark or light and coloured). It is also important if the stone is transparent, translucent or opaque. And the opalizing effect may also influence the transparency. The most important criterion for determining the price of an opal, however, is the play of colour, the colours as such and their pattern. If the colour red appears when looking through the stone, all the other colours will appear also. When evaluating opals the thickness of the opal layer is considered, the beauty of the patterning, the cut, weight and finish. Finally the total impression will be decisive.